Catanese-style rice crispelle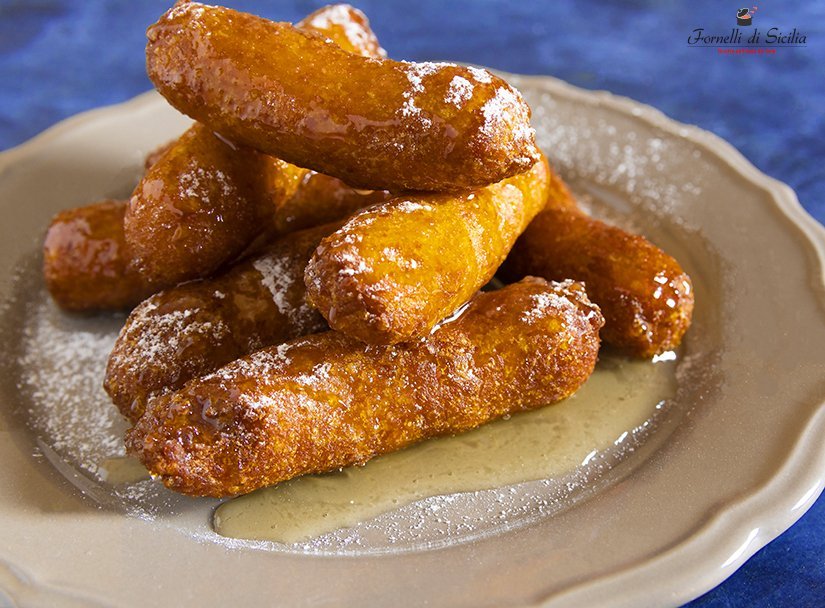 Ingredients:
350 g of Arborio or ribe rice

240 g or Flour "00"

170 g of granuled sugar

1 Packet of dry yeast

2 large squeezed oranges

2 eggs (small size)

Peel of 1 lemon

1 l of sunflower or peanut oil

130 g of oney to garnish

100 g powdered sugar
Historical origin of the dish and curiosities:
The rice crispelle (or zeppole di San Giuseppe), are typical fried cakes from Catania, made with rice, which are generally prepared in the period of San Giuseppe (19 March), so much so that they are a typical dessert for Father's Day. … In the rest of Sicily these sweets are also known as rice zeppole.
Boil lightly salted water and throw in the rice, letting it cook thoroughly, (very cooked) stirring every now and then to prevent it from sticking.
After having drained the rice, let it cool well in a large bowl, add the flour, yeast, sugar, orange juice, egg and lemon zest. Stir with a wooden spoon, then cover with plastic wrap or a cloth and let it rest for a good half hour.
Heat the oil in a high pan, arrange the mixture a little at a time on a cutting board, roll it out into a rectangle and cut them with a knife into many long strips about 1 cm wide, which you will dip into the hot oil. After frying, arrange them on a tray and garnish with plenty of honey, icing sugar and / or cinnamon.