Cucuzze friscarelle cutlets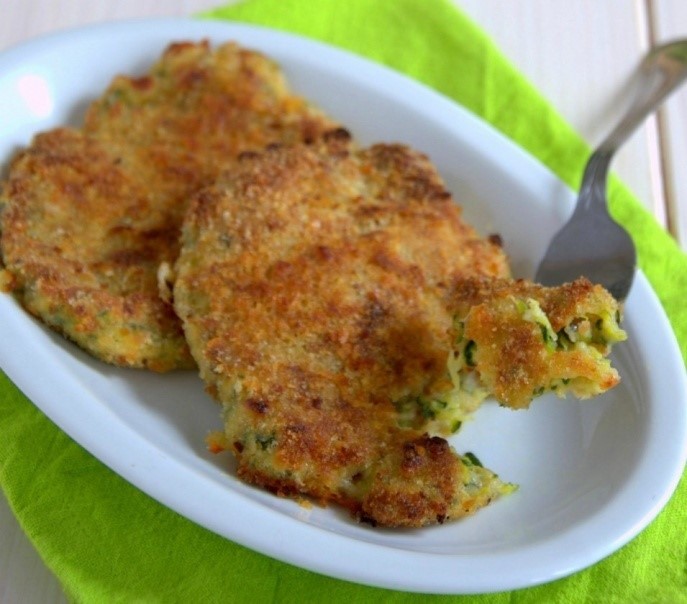 Ingredients:
350 g Zucchini
80 g Scamorza (provola)
50 g Grated Parmesan
2 Eggs
80 g Flour 00
100 g Bread Crumbs
2 dl Olive Oil
Salt
Historical origin of the dish and curiosities:
As reported by "Wikipedia", the gourd or gourd for pergola (Lagenaria longissima) also known as Sicilian snake gourd is a plant of the Cucurbitaceae family. It produces elongated fruits, which in the pergola cultivation hang down by gravity, while in the spontaneous cultivation on the ground it bends and takes the typical shape of a snake. Typically, the fruits (zucchini) are narrow (a few centimeters in diameter) and long (even over 1 meter).
After peeling the courgettes, pass them in a grater with large holes, add salt and squeeze them with to remove the vegetation water.
Also chop the smoked cheese. Put the zucchini, grated scamorza cheese, grated cheese and a handful of breadcrumbs in a bowl. With the mixture thus obtained, obtain balls.
Press the balls until you get nice meatballs, pass them in flour,
in the beaten egg and finally in the breadcrumbs.
Arrange the meatballs in a baking tray lined with parchment paper, sprinkle with a drizzle of extra virgin olive oil and cook for 20 minutes in a hot oven at 180 °.
Serve hot.
You can, if you want, fry your cutlets in plenty of hot oil, until golden brown.