A pasta with niuru de sicci and pisella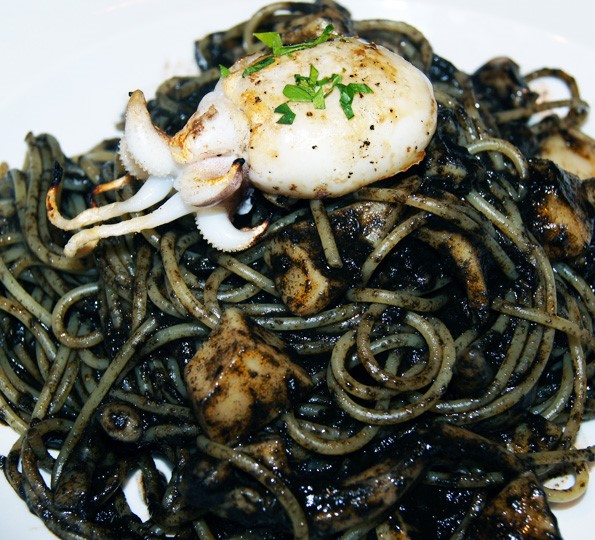 Ingredients:
320 gr of spaghetti
80 ml of extra virgin olive oil
n ° 1 cloves of Nubia garlic
50 g cuttlefish ink
Chilli at the discretion
100 ml white wine
150 g tomato paste
600 g tomato pulp ready
100 g peas
salt and pepper to preference
Historical origin of the dish and curiosities:
An intriguing dish that manages to intrigue the mind and stimulate the palate. A dish that speaks of "niuru" and "conna" as never before. His majesty Pasta with niuru de sicci, pasta with squid ink. Tradition has it that the young poet Mario Rapisardi underwent the "conna" or betrayal. On the other hand, now as then, it was enough to be poets to make women fall in love. There was a mistake … here in the city to conquer a woman you just need to make her eat well!
The newly married poet Mario Rapisardi, welcoming his young wife Gisella for the first time to Catania, had a nice plate of pasta with niuru dei sicci brought to the table.
The young wife, seeing the dish, refused to taste it. Refusing a plate of pasta in Sicily is so dishonorable that both Rapisardi and the mother-in-law forced the woman to taste the dish.
But we know well when a woman says no it is no, especially if the mother-in-law is involved. This was the beginning of a stormy love affair, so much so that the bride sought other types of consolation with the young Verga.
In the city people keep saying: Rapisardi, a pasta co niuru ti scunsau u
Empty and wash the cuttlefish well, cut them into small pieces, taking care to keep a small glass of cuttlefish ink with which the sauce will subsequently be seasoned. In a base of extra virgin olive oil, fry the chopped onion, add a lightly crushed clove of garlic (which will be removed as soon as it is golden), add the chopped cuttlefish, sprinkle with white wine and allow to evaporate well.
Add the tomato paste slightly diluted in a little broth, the peas and the ready tomato pulp and cook. Almost at the end add the small glass of cuttlefish ink. Bring to cooking. Season with salt and pepper. Cook the pasta and dress it with the sauce. Serve with chopped parsley.
Recipe by Chef Calogero Matia