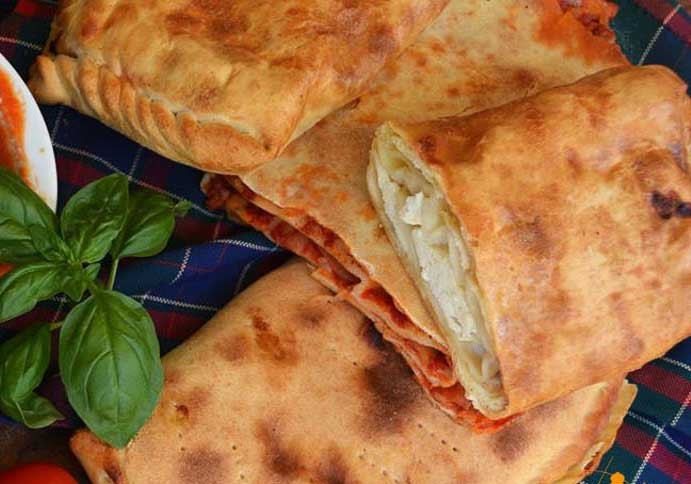 Ingredients:
1 Kg semolina flour

50 gr of brewer's yeast

 1/2 glass of warm water

10 g of bicarbonate

oil and salt to taste

1 kg of tomatoes

2 onions

100 gr  of grated caciocavallo

 chili, salt to taste

dl 3 extra virgin olive oil
Historical origin of the dish and curiosities:
The scaccia is a typical dish of Ragusa. The name clearly derives from the Italian crushed, due to its flattened shape. It is almost always rectangular, thus distinguishing itself from the "breaded" which are always round. The filling is very variable, depending on the season and the place. Generally, however, vegetables and dairy products are prevalent. The closure is generally "wallet", with the filling placed on half the pastry and the other half as a cover. There are numerous Sicilian varieties: in Catania there are the schiacciata of pork, broccoli, sparacelli and the one with tuma and anchovies; in Vittoria there is the "scaccia di pitrusino" and in Acate the one with ricotta.
Dissolve the brewer's yeast in warm water and add it to the flour that you have poured onto a large marble base. Start the dough with your hands adding a little water, until the dough is compact enough, create a loaf at the end of the work, flour and wrap it in a towel and let it rise for about an hour.
At this point, add the baking soda and a few tablespoons of oil and resume kneading until completely absorbed.
Make round and thin leaves of dough with the help of a rolling pin.
Fry the onion cut into thin slices and the peeled and seeded tomato in a pan with a little oil. Arrange the sautéed, adding the caciocavallo, chopped chilli and a pinch of salt, on the pasta leaves and wrap the scacce on themselves like the strudel. Solder the edges and brush with oil. Bake in a very hot oven and leave to cook for about 1/2 hour. Serve hot.