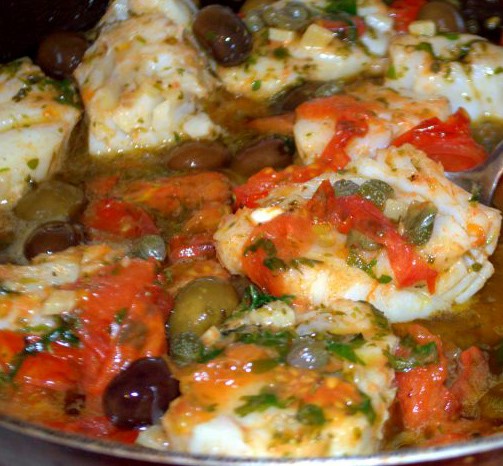 Ingredients:
1 kg. of soaked stockfish
1 onion
3 garlic cloves
1 glass of white wine
500 gr of tomatoes
4 potatoes
300 gr if green olives
15 grams of capers
10 grams of pine nuts
15 grams of rainins
1 heart of celery
1 carrot 1 bunch of parsley
2 dl Extra Virgin Olive Oil
Salt and Pepper To Taste
Historical origin of the dish and curiosities:
Masters in fish processing, the Normans left us one of the most popular second courses of the vast Sicilian gastronomic park as a gift. Stockfish is a cod caught in the Northern seas, especially in Norway and Iceland. In Sicily it is widespread and appreciated and is called "piscistuòccu". Messina has the primacy of quality in the preparation of this second course of fish, so much so that an ancient saying says: "tri so nun mancanu mai in Missina; vento, malanova and piscistuòccu". The freshly caught stockfish is gutted and placed on sticks, hence the name stoch-fish. Then it is dried in the air, in the sun and in the wind, and finally salted. Stockfish is often confused and associated with cod, because it can be prepared with the same recipes.
This recipe can also be used for cod. However, the fish must be well soaked in water before cooking it. Fry the chopped onion in a pan with oil, and when it is about to wilt, add the crushed garlic. Place the stockfish cut into slices and cook for five minutes over medium heat, blanching with the wine. Add the peeled, seeded and chopped tomatoes, the peeled and chopped potatoes, the pitted olives, the raisins, the pine nuts, the chopped carrots and celery. Add salt, pepper, lower the heat and cook for 50 minutes over low heat and covered pan. Then place the stockfish in a baking dish and serve with a sprinkling of parsley.