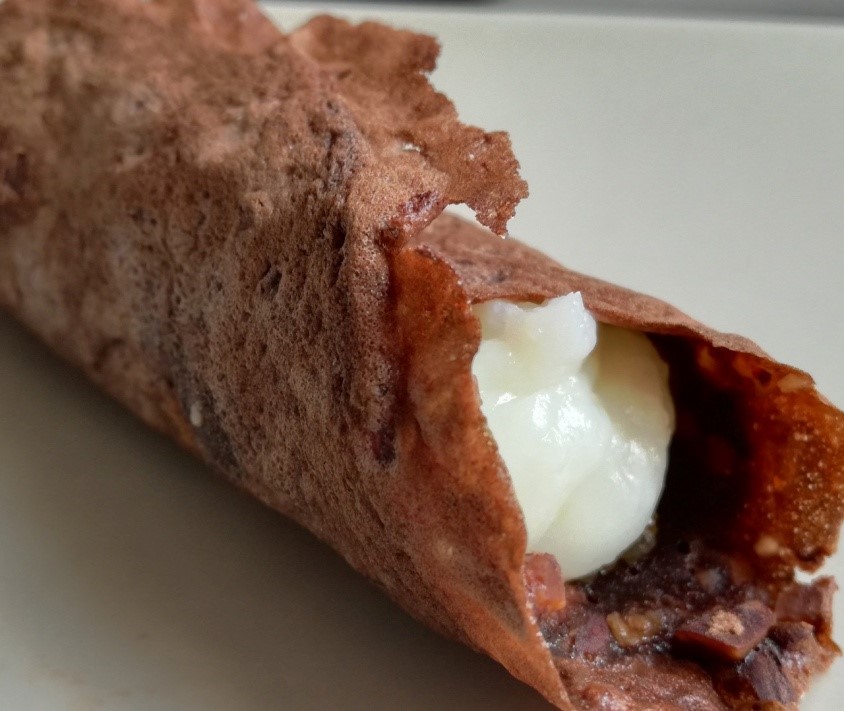 Ingredients:
For the waffle:
4 eggs
1 teaspoon of ground coffee
1 teaspoon of unsweetened cocoa powder
1/2 marsala wine glass
30 gr. of chopped almonds
20 g butter to taste
For the cream:
1/2 liter of whole milk
50 gr. of wheat starch
1 grated zest of one lemon
130 gr. of sugar
For the garnish:
80 gr. of chocolate drops
1 pinch ground cinnamon
1/4 of candied pumpkin
70 gr. of chopped almonds
50 gr. of chopped pistachios
100 g powdered sugar
80 g red candied cherries
Historical origin of the dish and curiosities:
The origins of this representative dessert are to be found around the end of the 17th century at the Monastery of the Badia Grande in Sciacca. Sweet resembling a classic Sicilian cannolo, which replaces it with good reason, due to the lack of ricotta consumption in the summer. The name, for some, derives from the similarity with the famous fish "Murena" dark externally and with white internal meat. Other enthusiasts of the island's gastronomic history attribute the name "Ova a Murina" to the presence of the Moors on the island (dark-skinned) who brought us the knowledge and use of many spices, including: cinnamon and vanilla since then widely used in various culinary preparations. Today, jealously guarded by the skilled hands of the masaie and by old-fashioned pastry chefs, we find it mainly in the Sciacca area.
In a low pot, prepare the milk cream, pouring all the ingredients listed above together and cooking over medium heat, until it reaches the necessary consistency. After cooking, place the cream in a tray, let it cool. Add the chocolate, cinnamon, diced pumpkin to the cold cream.
Now we can prepare the wafers that will host the freshly prepared cream.
Combine the eggs, cocoa, marsala and coffee in a bowl, beating with a whisk. We then add the chopped almonds and pistachios.
With the help of a classic crepes pan, or a large non-stick pan lightly buttered, we form our waffles, pouring a ladle of mixture, and making them brown.
Spread a layer of seasoned milk cream and roll up as if we wanted to obtain a classic cannoli and leave to cool in the fridge. Serve the "ova a murina" enriching them with candied half cherries and sprinkle with icing sugar.