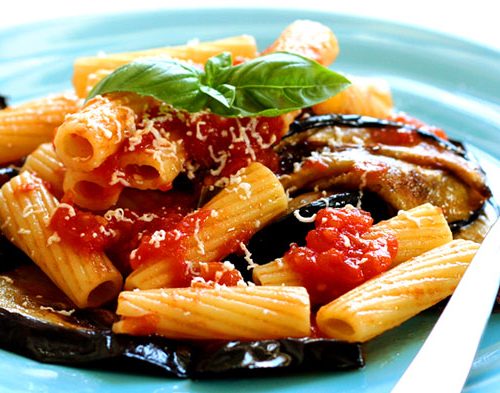 Ingredients:
gr 400 of pennette

3 homegrown aubergines

kg 1 of red tomatoes

1 onion

2 clove of garlic

1 bunch of basil

g 80 of salted ricotta

2 dl extra virgin olive oil

 salt to taste
Historical origin of the dish and curiosities:
Catania holds the ownership of the original recipe, representing the symbolic dish of its cuisine, although numerous variations of pasta with tomato and aubergine sauce were certainly already widespread throughout the southern area before the official birth of the Catania dish.
The origin of the dedication to Norma, as the famous site "Wikipedia" states, seems to be an explicit reference to the homonymous work by Vincenzo Bellini who wanted to represent the highest form of artistic expression, of theatrical art.
Peel and cut the aubergines into chunks, sprinkle them with salt and soak them with water and salt for an hour, in order to rid them of the bitter taste. Prepare the tomato sauce: fry the sliced ​​onion and the crushed garlic, add the tomatoes reduced in large pieces, add salt and cook for about ten minutes. Puree the tomatoes with the classic vegetable mill, season with oil and salt, add a few basil leaves and simmer for a few minutes.
I abundant seed oil, fry the aubergines, well washed and drained, and let the frying oil drain well.
At this point, cook the pasta al dente and flavor it with the tomato sauce and fried aubergines. Sprinkle the dishes with grated ricotta salata and finish with a few leaves of fresh basil.