Pasta 'ncaciata alla Messinese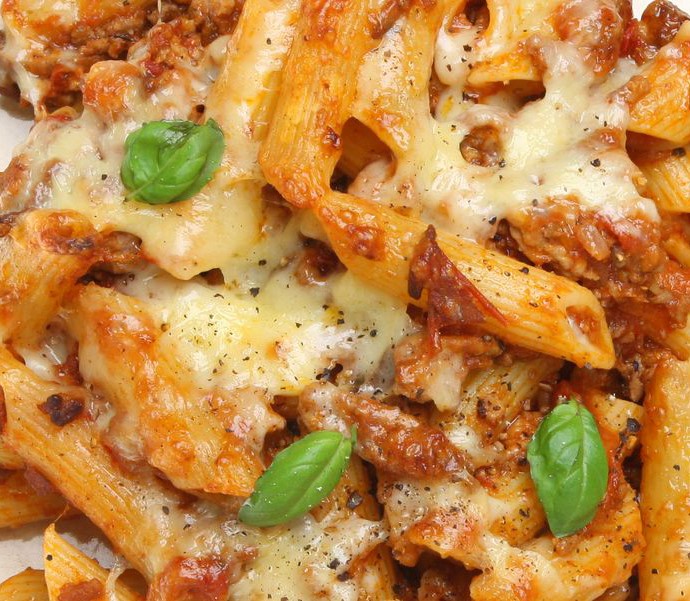 Ingredients:
500 g of pasta penne or half sleeves

 3 sliced and fried eggplant

1,5 dl  of tomato sauce

500 g ground beef

 2 medium onions

abundant basil

 150 g of cubed tuma

 100 g of sliced Milano salami

 2 hard-boiled eggs

150 g  graten Parmesan cheese

2 dl  Extra Virgin Olive Oil

 salt, chili
Historical origin of the dish and curiosities:
Pasta 'Ncaciata alla Messinese is a traditional dish from the city of the strait and one of the best known typical dishes of Messina. It is an ancient version of baked pasta particularly appreciated in Messina and throughout its province.
Cook the eggs for about 8/10 minutes, cool them, shell them and cut them into wedges.
Cut the aubergines lengthwise into slices about half a centimeter thick. Put them in water and salt for 30 minutes, drain well, dry them and fry in plenty of seed oil.
Put the extra virgin olive oil in a saucepan and brown the onion with the chilli. add the meat and brown it, add the tomato sauce, taste salt and pepper.
Before finishing cooking, add plenty of hand-chopped basil. Boil the pasta in abundant salted water and drain it al dente. Season it in a bowl with the sauce.
Grease a large, tall pan with oil and sprinkle it with breadcrumbs.
Pour a layer of seasoned pasta and then, alternating them with other layers of pasta, arrange the fried aubergines, cheese, salami and hard-boiled eggs. Place a ladle of sauce and a sprinkle of grated Parmesan between one layer and another.
Once the layers are finished, place the pan on the fire over a low flame without stirring for a few minutes, waiting for the cheese to melt. Now, stir quickly with a wooden spoon, mixing all the ingredients.
Serve the pasta in a large serving dish and serve it still hot.
VARIANT
In ancient times, Pasta 'ncaciata also known as "pasta ncasciata alla messinese" did not require the use of the oven, as few families owned a wood oven.
But the recipe can vary by baking the pasta in the oven, preheated to 180 ° C for 20-25 minutes.