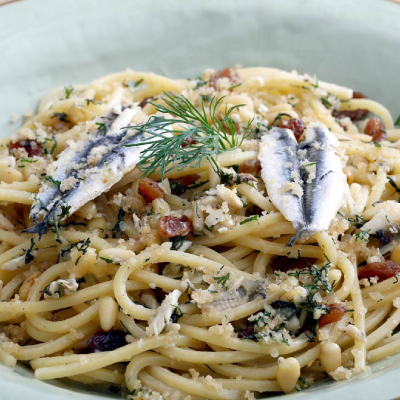 Ingredients:
kg. 1 Bucatini pasta

kg. 1 fresh sardines

gr. 100 extra oil virgin olive

kg. 1 wild fennel

gr. 50 white wine

gr. 50 Raisins

gr. 30 salted sardines

gr. 40 pine nuts

gr. 250 onion

n. 2 saffron sachets

salt e pepper to taste
Historical origin of the dish and curiosities:
According to legend, the dish was prepared by the cook of the Arab general Eufemio at the siege of Syracuse. After many days of navigation to reach the land of trinacria, the supplies of food on the ship were exhausted, so when we reached the coast, the cook commanded the troops to go ashore and to collect everything that was edible. On their return, the men brought: wild fennel, which grew luxuriantly, passolina collected from the vine shoots and pine nuts. By sharpening his wits and using the sardines that in the meantime were going bad on board, he created this first form of seas and mountains sauce. Subsequently over time the sauce underwent some variations, while maintaining some fundamental elements that made it up. It is a complete lunch: there is pasta, fish, vegetables. To dispel any doubt in this regard, the original recipe published in 1886 by the great Pitrè applies, which on page 352 dell'operacitata, literally says: "Pasta cu li sardi", macaroni cooked and colored with saffron solution, and seasoned with a sauce composed of onion, anchovies and parsley fried in oil, wild fennel (foenicum dulce gusto acute, L .) fresh anchovies, passolina, toasted almonds and pine nuts. The "pasti cu li sardi" can be defined as the first pasta "seas and mountains". It is common throughout Sicily with its epicenter in Palermo, it is very popular in Western Sicily, from Cefalù to Agrigento to Trapani.
Wash, remove the head and the spine from the sardines and open them "tongue", that is, leaving them together by the back. Clean the wild fennel, keeping only the most tender part; wash it well and boil it for 10 minutes, as soon as it is cooked drain it, squeeze it and chop it. In a shallow pan, sauté oil with julienned onion, fennel, washed and boned salted anchovies, pine nuts, saffron diluted in hot water, then brown half the fresh sardines together. Add the white wine. The sauce obtained must be spatulated to be homogeneous. Now, put a sachet of saffron in the salted water of the fennel, and boil the "perciatino grosso" (bucatini) until al dente: drain and mix with 2/3 of the sauce in the pan. Heat the remaining third in the pan with a drizzle of oil and pass the fresh sardines open to "linguata". Use everything to cover the pasta in the pan or in a pan. a final touch sprinkle the toasted breadcrumb on this layer. … .And good appetite!