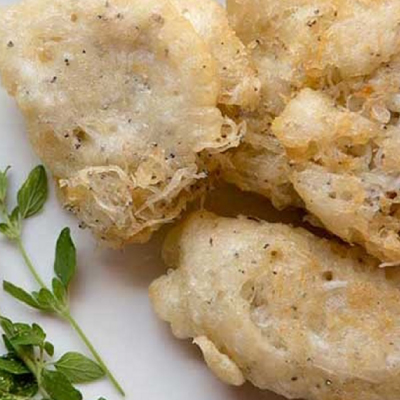 Ingredients:
1 kg of sardines nweborn
4 eggs
80 g  of flour 00
A bunch of parsley
1 l Fry Oil
Historical origin of the dish and curiosities:
In Sicily the word "Maccu" often refers to the famous cream of dried broad beans, which in the past represented one of the main sources of livelihood for the peasant population.
With this dish, instead, we go from the land to the sea.
To tell the truth, the word "muccu" that indicates this fish has a strong similarity with the mucus of the nose, hence the famous "Muccaturi".
Surely the resemblance to the whitish mush that slips through the hands, will have given rise to this name.
Clean the fish from various impurities (algae, leaves, etc.), put them in one and add the eggs, flour and finely chopped parsley.
Mix, being careful not to break and then mistreat the baby.
Heat the oil and fry the fish a little at a time.
With the help of a spoon, form pancakes directly in the pan. Brown on both sides, drain and serve hot.