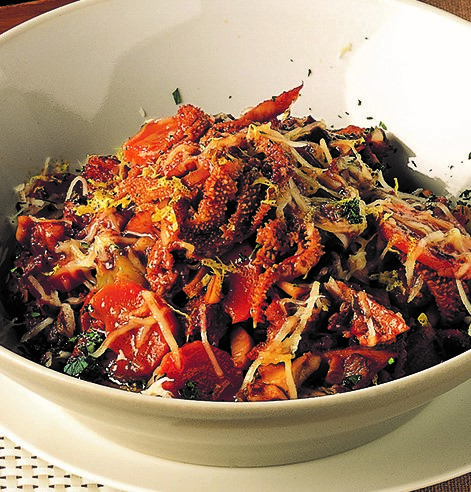 Ingredients:
750 g of tripe
250 g of onion
120 g of carrot
a stalk of celery
400 g of tomato pulp
50 g of alomonds with the skin and chopped
50 g of choppend walnuts
a spring of thyme
a few bay leaves
a teaspoon of cinnamon
2 large glasses of broth
greated lemon zest
pepper
salt
grated Parmesan
Historical origin of the dish and curiosities:
The Iblean territory, so rich in history, culture, architecture, places of interest and enchanting naturalistic views, also boasts an ancient tradition in the gastronomic field. This tradition is closely connected with history; in fact we have a mixture of dishes, the result of the many dominations of peoples that have alternated on the territory: from the autochthonous Sican to the Greek one, from the Arab one to the Norman and Aragonese influences.
Cut the tripe into strips, put it to boil in lightly salted water, a bay leaf and cook for about 5 minutes, drain the tripe and rinse it.
Cut the carrots into rings, the onion into slices, the celery and in a little oil, let it fry for about 10 minutes, then add the chopped walnuts and almonds. Leave to flavor for about 10 minutes, add the drained tripe and put it back on the fire for another 10 minutes, stirring occasionally, add the tomato, cover with broth, taste salt and pepper and finally add the thyme and cinnamon.
Bring to a boil and leave to cook for about 45 minutes. When cooked, add the grated rind of the lemon.
Serve still hot, sprinkling with parmesan or flaked cheese.